Review from REVUE magazine- Wei Luo's passion is plain to see and hear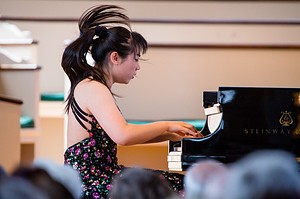 02 June 2018
Wei Luo, recipient of a 2018 Gilmore Young Artist Award, shares a music teacher with another Chinese pianist: Lang Lang, who also left his home country for America as a young teenager. Lang studied under Gary Graffman at the prestigious Curtis Institute of Music in Philadelphia, and Luo is currently completing her studies with Graffman at Curtis. Meanwhile, the young artist is carving out her own space among her predecessors with deep sonorites, fiery intensity and unfiltered rawness.
Luo's penchant for Russian music is another quirk that sets her apart. Her April 28, Stetson Chapel appearance at the 2018 Irving S. Gilmore International Keyboard Festival showcased works by four famous Russian composers: Pyotr Ilyich Tchaikovsky, Dmitri Shostakovich, Rodion Shchedrin and Sergei Prokofiev. Luo interspersed her program with lyrical pieces by Franz Joseph Haydn and Frederic Chopin to contrast the darker moods of the Russian works.
Luo's strong connection to the Russian compositions was plain throughout the concert. She embraced the slower tempo of Tchaikovsky's "October," evoking a melancholy autumn scene. Her furious delivery of Shostakovich's "Prelude and Fugue in D Minor, Op. 87, No. 24" was a definite concert highlight. She stormily voiced the desperation within the piece, which the composer wrote in the midst of artistic oppression.
Her blazing technicality through the piece's finale elicited an enthused audience response — as did her performance of Prokofiev's "Sonata No. 7 in B-flat Major." Prokofiev's sonata embodies the struggle the composer endured during World War II, and Luo held nothing back in expressing this anguish. Her unrelenting tempo and powerful syncopation in the third movement were particularly intense and thrilling.
Luo also exhibited impressive command over the Haydn and Chopin works on the program. In her recital opener, Haydn's "Sonata in E-flat Major," Luo allowed ample space for rumination, while she fearlessly charged through its technical complexities. She followed with a reading of Chopin's "Mazurka, Op. 17, No. 4" that was more improvisational than dreamy, with a heavier touch that left me wanting a little less tumult and a tad more introspection.
Luo also performed Chopin's "Nocturne in C-sharp Minor" in the second half. This interpretation felt more customary as Luo rounded out her phrases with barely-there lightness. The audience responded with happy sighs and warm applause.
Luo's next and final performance at the 2018 Gilmore Festival is Sunday, April 29, 4 p.m. at First Congregational Church in Battle Creek. She will also appear with the Battle Creek Symphony on May 5, performing "Rhapsody on a Theme of Paganini" by Rachmaninoff.