Gilmore pianist channels her inner Russian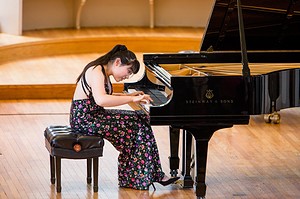 02 June 2018
That's why the 2018 Gilmore Young Artist is playing works by all four Russians as part of her Gilmore tour, which includes Friday's performance at First United Methodist Church in the opener of the South Haven Performance Series.

"I love Russian music so much," Luo says. "I have the Shostakovich. I have the Shchedrin. And I have Prokofiev to end my recital. It's a lot of Russian music. I'm thinking for the audience it might be too much, so for them I chose the Haydn and some Chopin lyrical pieces in between."
The origins of Luo's penchant for Russian music may stem, in part, from her mother's fondness for ballet.
"When I was young, my mom took me to see 'Swan Lake' and 'Sleeping Beauty' and all those Tchaikovsky beautiful pieces, so I was really attracted to that style," Luo says. "Now, I feel very connected to that music. It speaks very strongly to me."
Born in Shenzhen, China, Luo began piano lessons at age 5 and gave her debut recital in Hong Kong just a year later.
"I was in kindergarten and the piano is always played by the teacher," she says. "Because we are so young, we weren't allowed to touch the instrument. But I was always attracted to the sound. One day I got home and I asked my mom, 'What is that thing that makes such a magical sound?' And she said, 'It's a piano.' I asked if I could study it for my life. She told me to consider it very seriously for one month. At the end of the month I was still determined, and she and my father bought me a small piano for my 5-year-old birthday, and I never gave up."
Winner of numerous competitions in China, Luo also claimed first prize in the 11th Chopin International Competition for Young Pianists in Poland and the Rachmaninov International Piano Competition for Young Pianists in Frankfurt, both in 2010.

Gilmore pianist channels her inner Russian
Pianist Wei Luo will perform Friday night at First United Methodist Church as part of the South Haven Performance Series.
Photo provided
She also made her orchestral debut with the Shanghai Philharmonic in 2010, and in 2012 was accepted to the Curtis Institute of Music in Philadelphia, where she currently studies with Gary Graffman and Robert McDonald.
"I have to admit that practicing the piano is sometimes not fun at all," Luo says. "Every time I see my friends going out and I am staying in the practice room, it is not fun to me. But every time I give a performance and I see how happy the audience is and how they are influenced by the music, then at that point I feel all my hard work pays off."
Luo will open Friday's concert with Joseph Haydn's Piano ​​​Sonata in E-flat major, Hob. XVI:52, the last of his piano sonatas and widely considered his greatest; and Frédéric Chopin's Mazurka, Op. 17, No. 4, which showcases his Polish roots.
She will close the first half of the concert with the lone Tchaikovsky piece in the program, "October" aka "Autumn Song" from "The Seasons," a set of 12 short character pieces for solo piano; followed by Shostakovich's Preludes & Fugues Op. 87, No. 24.
"The reason why I chose the Shostakovich to close my first half is because it is a very monumental work," Luo says. "I can hear a lot of strong emotions in this 11-minute piece. It's like a miniature of his symphony to me. I can hear all the darkness of Shostakovich and desperation and war and death and fear, but also I can hear that he still had some hope for the coming years. That really speaks to me."
The concert's second half, includes Chopin's Nocturne in C-sharp Minor, Op. posth., which Chopin dedicated to his older sister, Ludwika Chopin; sandwiched between Shchedrin's Two Polyphonic Pieces and Prokofiev's ​​​Sonata No. 7 in B-flat Major, Op. 83, the second of his three so-called "War Sonatas."

"It's one of my favorite pieces," Luo says. "I really like the story behind it. One of his close friends was killed by Stalin, but then he was asked to write a cheerful piece for Stalin (for his 60th birthday) and he did, but you can imagine how angry he was. He expresses all that anger in his three sonatas."
In addition to Friday's concert in South Haven, Luo also will perform Saturday at Kalamazoo College and Sunday at First Congregational Church in Battle Creek as part of her Gilmore Young Artist award, which is presented every two years to single out the most promising of the new generation of pianists, age 22 and younger.
"I am so honored and grateful to receive this recognition by the Gilmore Foundation because it gives me so much support of what I am doing now," Luo says. "They provide so many performance opportunities so I am learning a lot."