Wei Luo to step in for Ingrid Fliter at Gilmore Festival Finale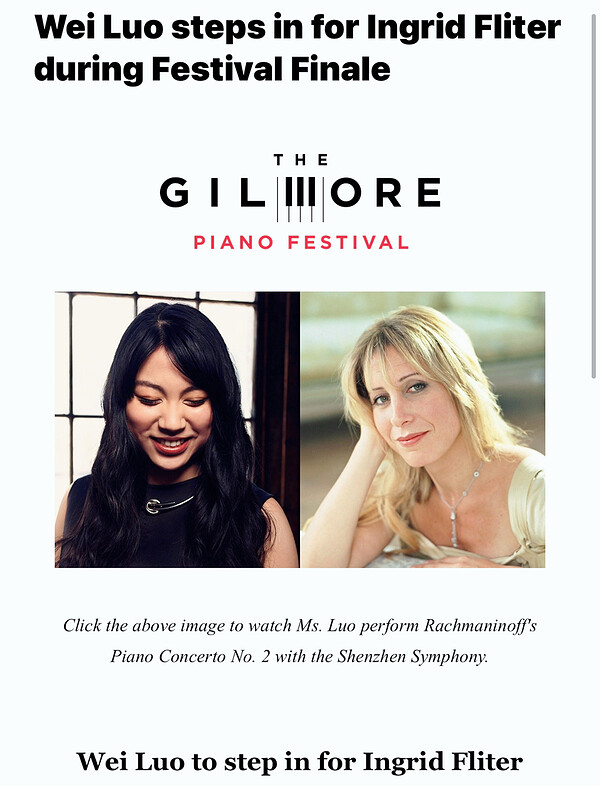 11 March 2022
2018 Gilmore Young Artist, Wei Luo, will be returning to the Gilmore Piano Festival this year to perform alongside 2020 Gilmore Young Artists, Maxim Lando and Misha Galant, and the Kalamazoo Symphony Orchestra led by maestro Julian Kuerti, for the Festival Finale on May 15. In addition to partnering with Misha and Maxim for Bach's Concerto for Three Pianos in D Minor, BWV 1063, she will be featured in Tchaikovsky's magnificent and virtuosic Piano Concerto No. 1 in B-flat Minor, Op. 23.
2006 Gilmore Artist, Ingrid Fliter, who was supposed to appear for this event, greatly regrets that she will not be able to travel to the US to participate in the 2022 Festival while she tends to family obligations. She looks forward to returning in a future season, and we all at The Gilmore family wish her all the very best during this time.
Ms. Fliter's chamber music collaboration on May 12 at Chenery Auditorium has been canceled. Ticketholders will be contacted with instructions on exchanges and returns.
Born in Shenzhen, China, Wei Luo began piano lessons at age five and gave her debut recital in Hong Kong at age six. She entered the Shenzhen Arts school at nine and went on to study at the Shanghai Conservatory of Music, later coming to the US to study at the Curtis Institute of Music.
Winner of numerous competitions in China, Ms. Luo also claimed first prize in the 11th Chopin International Competition for Young Pianists in Warsaw and the 2nd Rachmaninov International Piano Competition for Young Pianists in Frankfurt, both in 2010. She was named a Gilmore Young Artist in 2018.