Chicago Tribune introduces pianist Wei Luo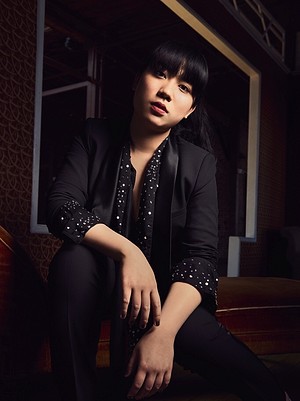 08 August 2019
Chicago Tribune

Whiting Park Festival Orchestra features pianist for Russian Night
By JESSI VIRTUSIO

AUG 08, 2019 | 3:00 PM

Wei Luo is the guest pianist for Whiting Park Festival Orchestra's Russian Night on Aug. 17 at Whiting Lakefront Park's Mary E. Bercik Memorial Pavilion.

A concert including works by Russian composers is in pianist Wei Luo's wheelhouse.
She performs Sergei Rachmaninoff's Piano Concerto No. 2 as the guest artist during Aug. 17's Russian Night presented by Whiting Park Festival Orchestra, which is conducted by Robert Vodnoy.

"Rachmaninoff is one of my favorite composers. Ever since I was young I was really attracted to the Russian melodies and harmonies and the mood they create," said Luo, who recently finished her sophomore year at Philadelphia's Curtis Institute of Music.
"The second concerto is one of the most famous masterpieces in classical music repertoire. It's one of his earlier works but that's what makes Rachmaninoff a world-class composer."

Piano Concerto No. 2 is dedicated to Nikolai Dahl, a physician who helped Rachmaninoff during a difficult period.

"After Rachmaninoff wrote his first symphony and the critics didn't like it, Rachmaninoff was in a deep depression. He was so sad and couldn't write for three years. He was in therapy so he got better," Luo said.
"The second movement is the famous melody, which has been used in many movies. The whole piece is so deep and from his heart. We can hear so many emotions. I feel all the difficulties he is overcoming and the happiness coming out from his heart. I was really moved by his strong will to live and survive."
Russian Night at Whiting Lakefront Park's Mary E. Bercik Memorial Pavilion also features Johann Strauss II's "Russian March," pieces from the musicals "Anastasia" and "Fiddler on the Roof" and Nikolai Rimsky-Korsakov's "Capriccio Espagnol."
"The melodies of the music are so beautiful," said Luo.
"Also, the orchestra will be having a great conversation with me as a soloist. It will be many interesting dialogues between me and the orchestra. It will be good for the audience to hear all these melodies and these conversations."
[ In a theme park parking lot at night, a worker sleeps in her car. This is life in America's most visited city »
Born in China, Luo began lessons after her parents gave her an upright piano for her fifth birthday.
"None of my family members are musicians but they love music. My mom and dad always played 'Swan Lake' and 'The Sleeping Beauty' by (Pyotr Ilyich) Tchaikovsky at our house. I was so attracted to the melodies and the sound," she said.
"In kindergarten we were introduced to all the instruments including piano. I was really into the sound and music. I asked my mom if I could learn music and piano. My parents asked me to consider it seriously. After one month's consideration I did want to learn music.
"Every time I play a concert I feel like the audience understands what I'm trying to say and the message behind the piece. Then I'm really happy that we're communicating through music. That's why I love to be a performer."
Luo, who gave her debut recital in Hong Kong at age 6, went on to make her orchestra debut at age 10 with the Shanghai Symphony Orchestra and has performed with violinist Daniel Hope and cellist Gary Hoffman.

"My first solo album will be released Aug. 30 with Universal Music Group and Decca Gold," said Luo of the self-titled recording, which includes pieces by Russian composers Sergei Prokofiev, Rodion Shchedrin and Dmitri Shostakovich.

"It's very exciting because it's something I love. I chose all the repertoire for this CD. I connect with every piece in a deep way. There are so many stories behind me and those pieces and so many great memories I want to share."
Russian Night
When: 7:30 p.m. Aug. 17
LATEST POST-TRIBUNE
Where: Whiting Lakefront Park's Mary E. Bercik Memorial Pavilion, 1500 Park Road, Whiting