Wei Luo makes impressive debut with San Diego Symphony in Prokofiev Third Piano Concerto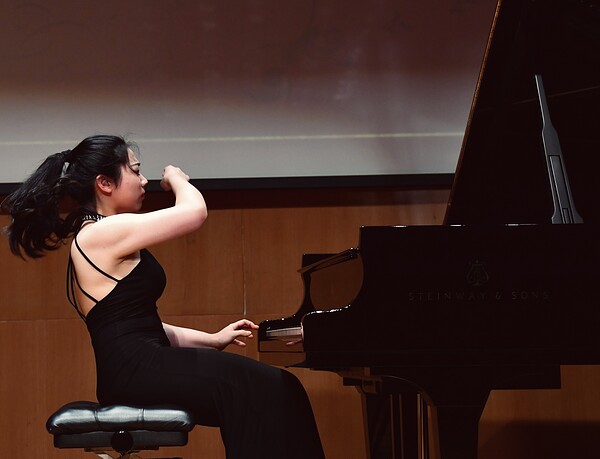 08 December 2019
Conductor Laureate Jahja Ling made another felicitous visit to the San Diego Symphony podium Friday, December 6, bringing a robust program of Dvořák and Prokofiev to Copley Symphony Hall. Young Chinese pianist Wei Luo made her impressive San Diego debut giving a riveting, muscular account of Serge Prokofiev's Third Piano Concerto in C Major.

From Wei Luo's sparkling opening salvo in the Prokofiev, I sensed we were about to hear an extraordinary piano performance, and her muscular yet seamlessly refined technique thrilled us traversing this flashy icon of early 20th-century modernism. She hurtled through the composer's knotty technical challenges with ample composure left over to lavish on his more reflective moods.
She was fortunate to have Ling leading the orchestra—he can always be counted on to give give the guest soloist unfailing sensitive support at every turn, sleekly matching her interpretive shadings and keeping the orchestra in sync with her frequent breathtaking tempos. I was taken with their account of the middle movement, the Andantino: Ling and the orchestra stressed the composer's whimsical air to the march-like main theme, while Wei Luo suggested balletic movement, teased by her delicious rubato.
Ling appeared happy to indulge the orchestra's most luxurious sonority in the finale, basking in those grand, arching themes that seemed to slyly look back to Rachmaninoff's late Romantic style. Wei Luo took majestic command of the pummeling repeated chords that bring this concerto to such a glorious, satisfying conclusion, to which Friday's unusually small audience gave its raucous approval. Her glowing encore was Chopin's Nocturne in C-sharp Minor.
As winning as the orchestra sounded in its collaborative role in the Prokofiev concerto, I though the players moved up a notch performing Antonín Dvořák's Symphony No. 8 in G Major. Ling's affinity to full-bloom Romantic melodic rhetoric is no secret, and the music of Dvořák is friendly territory, to say the least. The orchestra responded with a full, expansive string sonority given even more force with the glowing resonance of the cello section, for this concert placed stage center in front of the woodwinds so their sound communicated directly with the audience. Ling kept the pulse of the symphony's third movement, an insistent triple meter Allegretto grazioso, aptly unrelenting, and his wide dynamic palette kept the movement fresh. The glorious trumpets heralded the final movement that unfolded with the majesty that makes this Dvořák symphony so beloved.